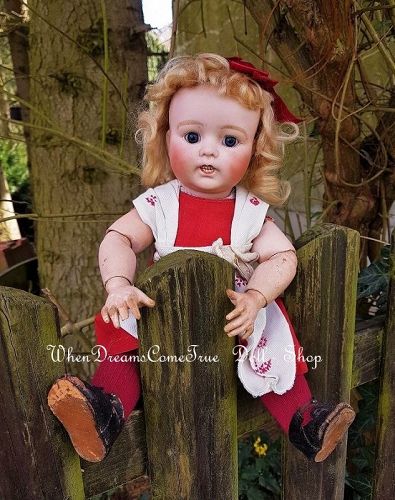 Cute French Bisque Character ~ Mademoiselle Toto ~ by Lanternier
---

Please refer to our stock # 308 when inquiring.
Very cute and funny little girl attributed by Lanternier & Cie .....14,5 " ( 36 cm ) .... called " Toto " with excellent and sweet detail of sculpting well defined face expression and dimples , choice bisque and original body ......... . France circa 1910 .......
Lovely quality of bisque socket head with beautiful and cute character expression , has full cheeks , lovely blue glass inset eyes with painted lashes and painted brows . Open mouth with deep modeling of rare two row of porcelain teeth and smiling expression at her full lips .
Toto has her original blonde mohair wig and cutest plump original toddler body full jointed and with original body finish. Her condition is all complete generally excellent ..... the bisque is free of damage , hairline , chip or other problem , body has original finish and is also in good condition to age !! Tiny missing piece at one finger tip and small color problems but all not disturbing .
Head without mark at back but because of her typical face expression attributed by French Factory " Lanternier & Cie " !!
The little Darling wears very sweet with antique clothing , original under wearing with under dress , lovely red cotton dress and embroidered pique apron !! Stocking and French leather shoes ........
Toto will you prepare every day a lot of joy with her HaPpY face and catch your heart !!!!!!
Please let me know if you have any question or if you need more or special pictures !! Thank you for your interest on my Doll Shop .........
Layaway are always welcome , so please feel free and ask about it !!!!